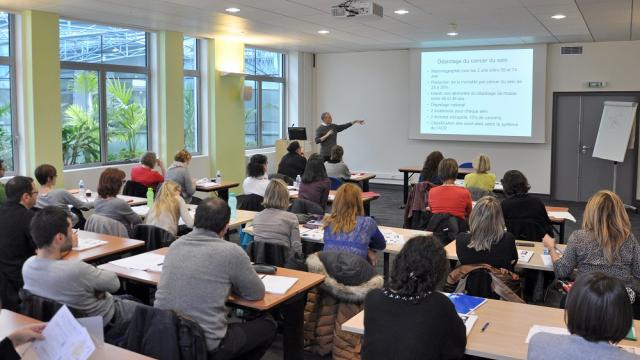 The Centre Léon Bérard is training :
its own employees, through inhouse training, in order to maintain and continuously update competences in view of constant developments in oncology;
future healthcare and research professionals, welcoming those within and outside the medical profession, PhD students and interns, and participating in university and higher education (Institute for training in nursing), electroradiology manipulators, medical secretaries, etc.);
healthcare and exercise professionals, in professional training (training institute and training of private nurses), and university education professionals (university degree, DU, and interuniversity degree, DIU). In this context, the CLB is a Continuous Professional Development (CPD) organization
UNIVERSITY EDUCATION
The university and inter-university degrees managed in conjunction with the University Claude Bernard Lyon 1:
DU senology: 3 sessions of 2 days/ academic year
DIU oncogeriatrics: 5 sessions of 2 days/academic year
DIU pediatric pain and palliative care: 5 sessions of 2 days/academic year
DU oncology of the upper aerodigestive tract: 4 sessions of 2 days
DIU supportive care in oncology: 5 sessions of 2 days/academic year
DIU comparative pathology in oncology European
DIU surgical practices in oncology
THE 2018-2019 LYON MASTER'S DEGREE IN CANCEROLOGY
Created in 2013 as part of the Cancer Research Center of Lyon (CRCL), the Master's degree course in cancerology is the only one in France to bear the title "Cancerology". In 2018-2019, this Master's degree course has 106 students at cancer research sites in Lyon, including the Centre Léon Bérard.
Get training at the Léon Bérard Cancer Center

Choose us for your healthcare training

Download the leaflet

Our training programs

Discover the entire training programs at the Léon Bérard Center

Download the leaflet